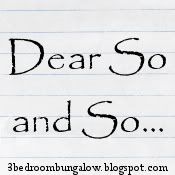 D
ear Chinese kindergarten
Saving money by buying quilts stuffed with dirty, recycled cotton fibres that contain bacteria and put the lives of the migrant children you care for at risk? You got away lightly with a fine. If I had my way you'd be sleeping under one of your own disgusting quilts.
Yours
Really annoyed Mother who's grateful DD doesn't have to go to this kindergarten
**********
Dear Sunshine
Thanks for popping out yesterday and making us all lovely and warm. Was it tiring? Is that why the rain is covering for you today?
Yours
Missing you
**********
Dear DD
Was it a nightmare that woke you at 5.45 this morning? I'm so sorry my darling, please don't be scared. Mummy will happily drop-kick any monsters that happen to be lurking. Never fear, Mummy's here. (Glad you're snoozing again now though so I can blog for a while.)
Yours
Monster-bashing Mummy
**********
Dear Susanne and Jayne
Congratulations on the launch of
Maternity Matters
this week!
Yours
Pleased as punch for you and the Mums you're going to be helping
**********
Dear BMB Comment Group
So nice to meet you all this week. I have visited you all today and you're a rather splendid lot. Sorry if I'm not on Twitter much while you're awake so we can have a good gossip, but I'm in China at the mo and the time difference is seven whole hours. I do love Twitter, but not that much.
Yours
New friend
**********
Dear reader
Join the Dear So and So party over at
3 Bedroom Bungalow
... you know you want to :D
Yours
Bod for tea